Beautiful Beaded Chandeliers
Posted by HEATHER HILL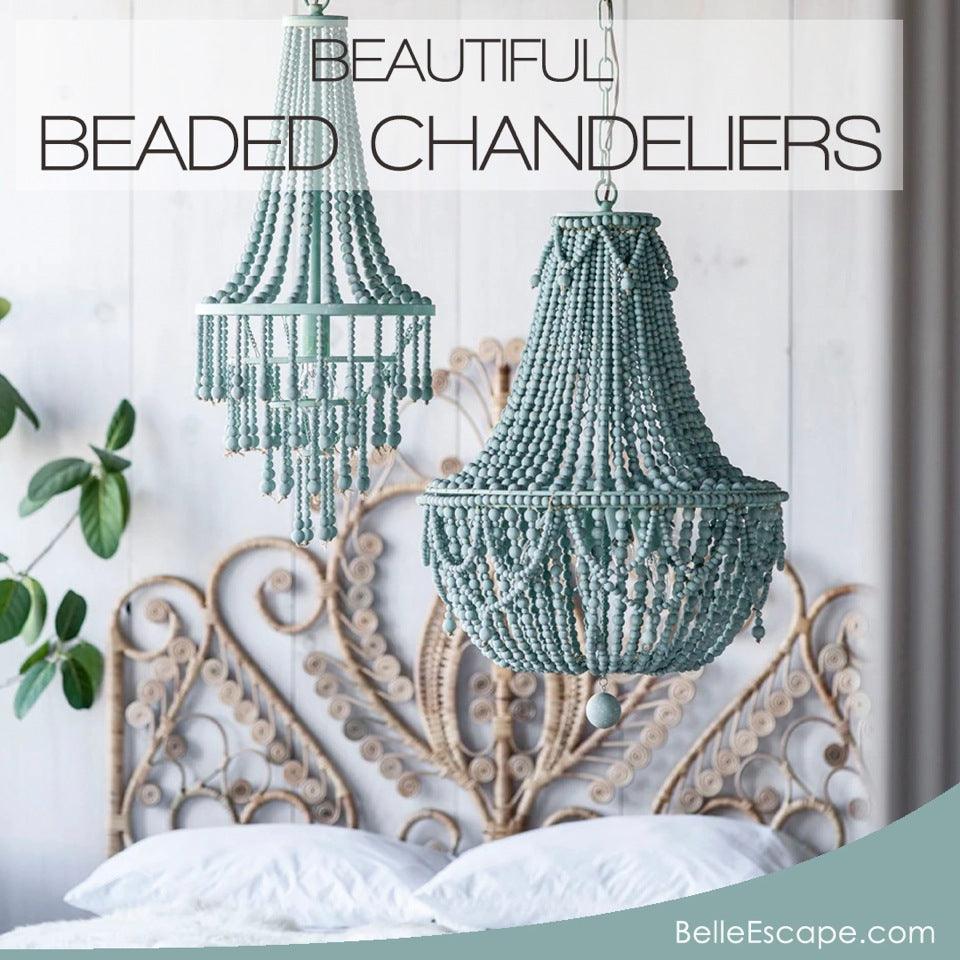 Chandeliers are a terrific way to add a focal point and create a style statement to any room. Beaded chandeliers have become this year's go-to item to compliment your decor and bring a cohesive look to the space. From casual to contemporary, we have many options for you to choose from.
Coastal beaded chandeliers offer pops of color to enforce the colors of the sea. Shades of blue and turquoise offer a standout lighting element to your nautical, surf shack, or natural coastal home.
Wood beaded chandeliers can add an understated casual look with muted colors and classic shapes. Much lighter in weight than their former heavyweight crystal counterparts, these chandeliers provide a practical choice for many homes. Many of these beaded chandeliers draw from classic shapes in order to still create drama and beauty, but without all of the formality. Most of them can compliment any decor from Farmhouse, French Country, Rustic and of course Boho!
Natural boho chic decor lends itself perfectly to wood beaded chandeliers. Swags of draped beads or strands of multiple sized ones give off that hand-crafted vibe that so many Bohemian lovers enjoy. 
Glass beaded chandeliers are still a popular choice among those who want to add glamour and sparkle to their space. Contemporary designs include metallics within the chandelier to add even more glitz and shine. The final result is a lighting fixture sure to catch the eye and admiration of all your guests.
| | |
| --- | --- |
| | |
Whichever piece you choose there are definitely some factors to consider before purchasing "the one". Be sure the fixture isn't too big or too small for the space. Scale is important as in an entryway you would want to keep the chandelier high and larger, whereas in a bedroom, smaller and lower might be just fine. Also consider other fixtures and lighting in the room. Do the other pendant lights, lamps or chandeliers clash with the style you chose? Finally, choose a color that will work well with the flow of your decor. It is perfectly fine to create a statement piece, but make sure it is surrounded by a complimentary or neutral color palate. Ultimately it is all about what makes you happy and gives you the sense of pride in your home when choosing what works best for you.
See similar articles to Beautiful Beaded Chandeliers:
Shimmering Silver and Gold Chandeliers
Finding the Perfect Chandelier Collection 2019 Sale 70% Off Title for image