The French Chair Affair
Posted by BELLE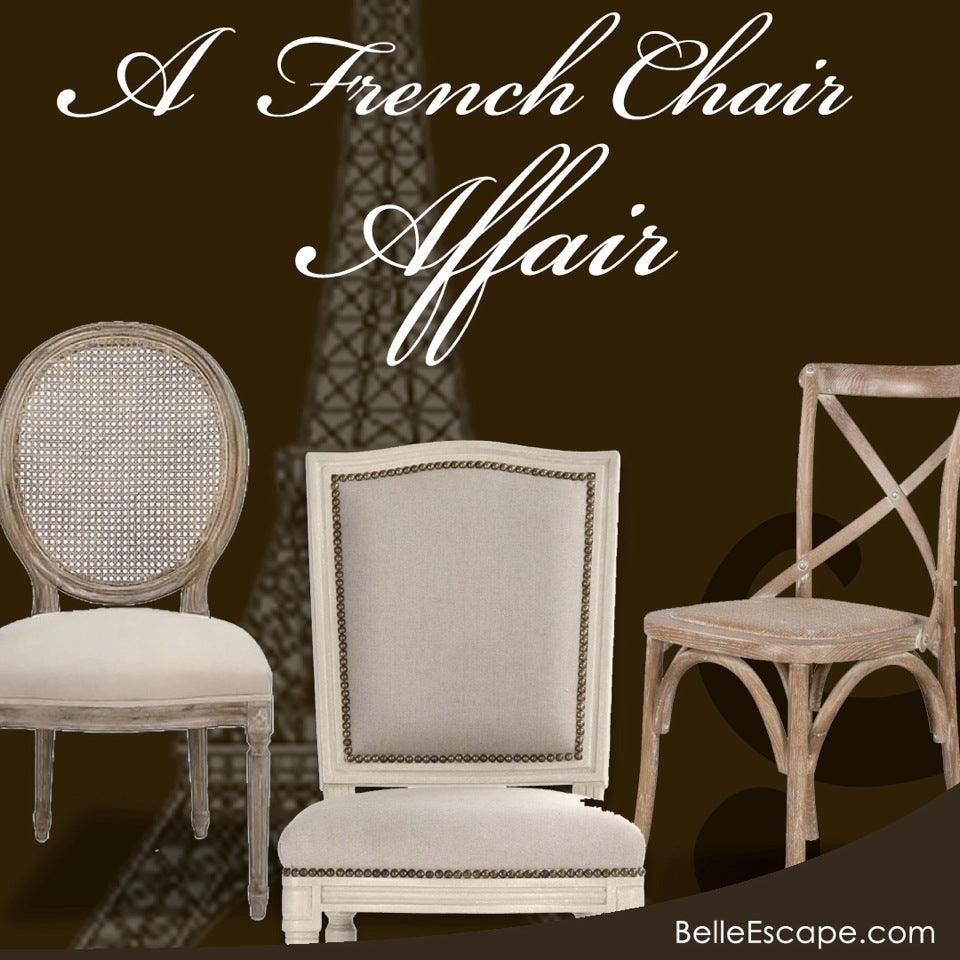 Choosing the right dining chairs can feel a bit like looking for the "one". We are first attracted by the appearance, but then we want more details. Is it our style? Does it make us feel comfortable? Is it stable enough to stand the test of time? It's important to really know what you're looking for in a chair, and not to pick one solely based on first impressions. So decide what will be the best fit for your lifestyle first, and go from there.
This
Versailles Chic
inspired dining area is so romantic and feminine. With the curved upholstered chairs, gold gilded, mirrored walls, and an antique chandelier, you feel as though this is a corner of the famous Hall of Mirrors in the palace itself. If you look closely you will notice that some chairs are slightly different, yet they all have similar tones and upholstery which unites them all together. The end result is a soft, intimate dining experience.
This
French Country
eat -in kitchen is casual and inviting. This is the heart of the home where the family gathers together over home cooked meals and to catch up on everyone's day. The weathered wood of the cane-backed chairs are a perfect choice for everyday use. Comfort and style in one cozy package.
If a more formal dining area is what you are looking for, steer toward a chair that will not only look fabulous, but provide plush cushioning for your guests. After all, you need to be comfortable if sitting through all those wonderful courses right? This
French Chic
space provides the "WOW" factor with the rich charcoal grey fabric on the chairs and the gold accents throughout. I would feel absolutely privileged to be a part of this dinner party.
Even though the table in this dining space is quite traditional, these square-backed chairs add a sleek, modern element to the room and the chocolate brown fabric is rich and sophisticated. Include a focal point of large artwork and the modern element is clearly punctuated. If you are like me and adore all the different types of
French chairs
, whether it's well rounded or square, casual or formal, subdued or expressive,  then you too have succumbed to The French Chair Affair. Collection 2019 Sale 70% Off Title for image