Finding the Perfect Display Cabinet
Posted by BELLE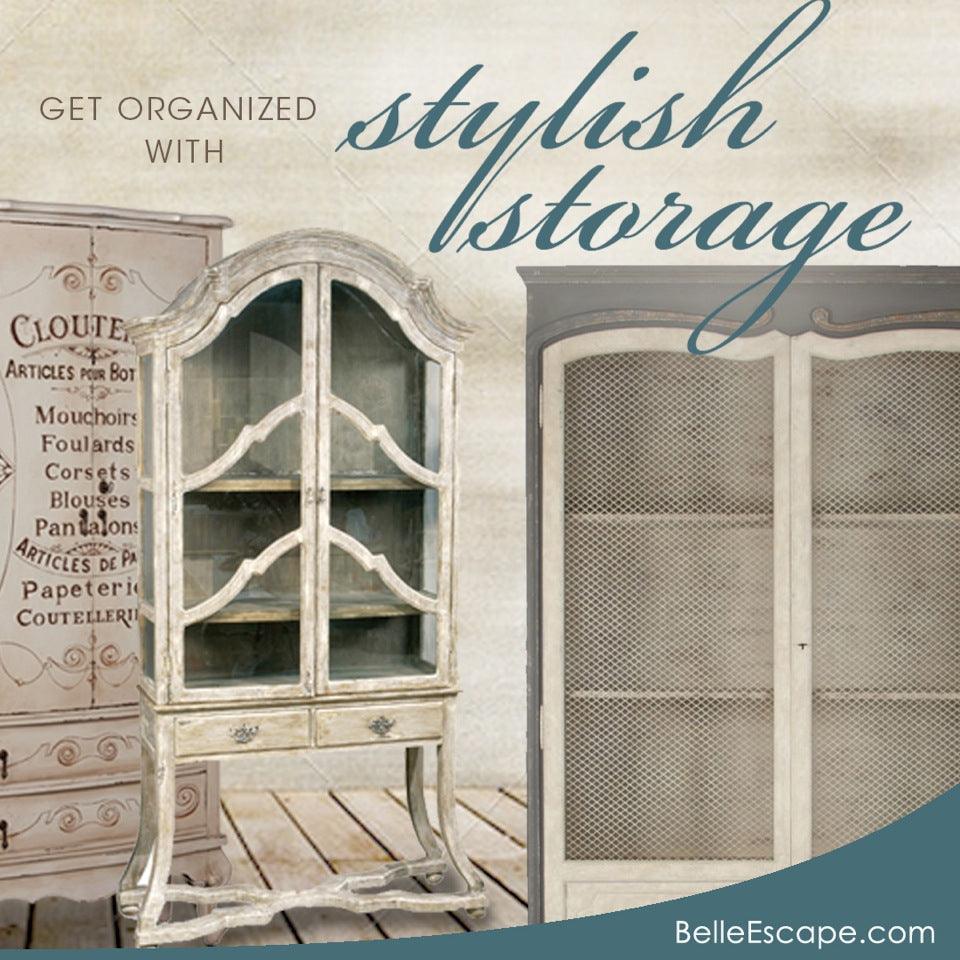 I think we all come across the same issues in our homes in trying to find more storage for things that we have accumulated over the years. Sometimes we just need the space to store them, and other times we want to display our treasured objects for everyone to admire. Selecting the right cabinet requires a lot of thought. First, what is the function: storage, display , bookshelf or a combination? Second, what is the best size for the space? And third, what style goes best with your home's architecture and the room style.
Display cabinets
are often the focal point of a room and kept for decades, so finding the right one is important.
Some display cabinets become the soul of the room. This vintage distressed cabinets adds warmth to the room, making it feel cozy and inviting. This particular cabinet serves provides storage and display features by simply keeping the cabinet doors open to reveal an array of treasured items.
This traditional
French Country
 dining room has a moderately sized display cabinet with the best of both worlds: storage below and enclosed display space above. The glass front cabinet is the perfect place to store attractive pitchers, platters and serving pieces that are not used for everyday dining. Although the cabinet is a good size, it doesn't overwhelm the space and still provides plenty of room to sit comfortably and move around the dining table.
I love the idea of having open shelving in the bath to store linens and other items for easy access. The monochromatic look here is just gorgeous. The textures of the baskets and flowers add interest and warmth. Subtle elements of the seaside like the lantern, starfish and sand colors make it perfect for a
coastal cottage.
This is obviously the office of a woman who loves her books. The cabinet stores her rare volumes and treasured keepsakes. Behind the glass doors they are protected from dust and damage. The muted color of the cabinet allows it to blend seamlessly into the background. It is important to note that she didn't forget the top of the cabinet as a decorating element as well. The soft colors of the dried hydrangeas blend well with their library neighbors.
This massive china cabinet definitely screams look at me, but it is really the pop of color on the blue plates that our eye goes to. The designer has cleverly disguised the fact that the cabinet is so large by adding equally large topiaries on either side and two inviting chairs right in front. They don't distract from the beauty of the cabinet, but they do help in minimizing it's large presence. Grand and ornate or subtle and petite, when it comes to choosing a cabinet for your home, the choices are endless. Look to your home's original architecture to guide you in choosing a perfect match and enjoy! Collection 2019 Sale 70% Off Title for image