French Café Style - Ooh la la
Posted by BELLE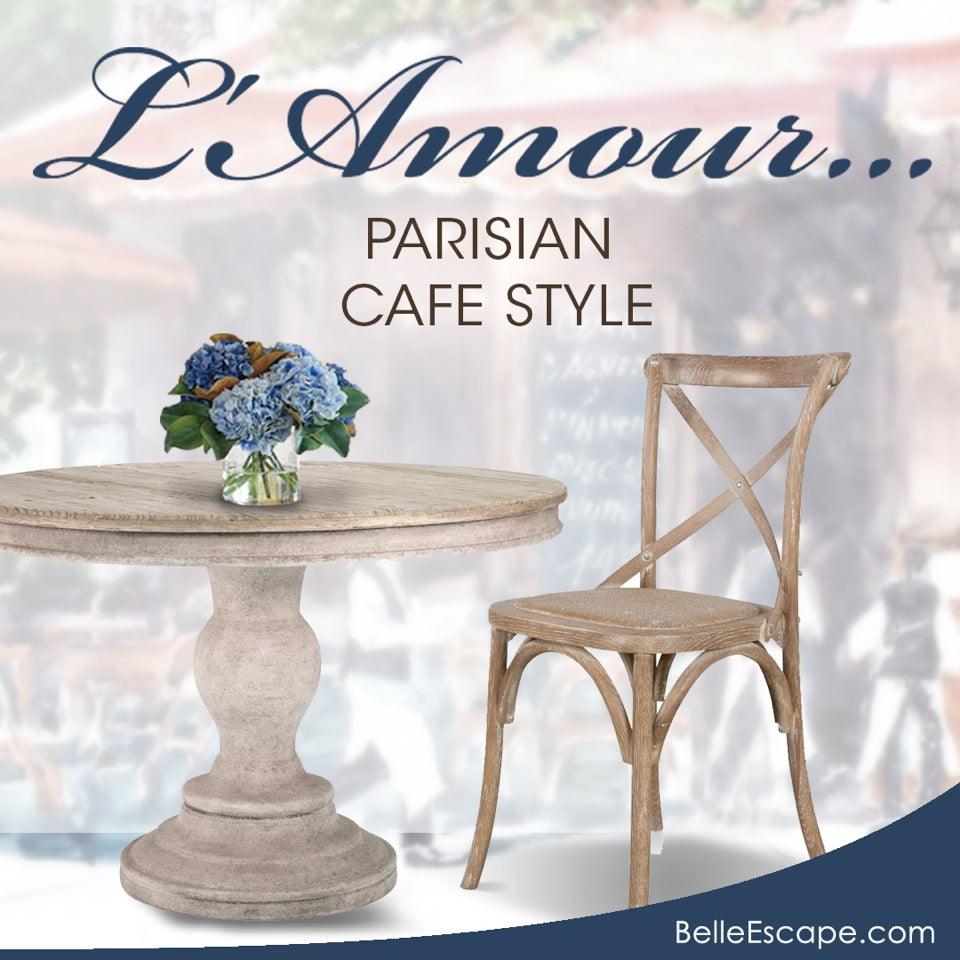 French café style, refreshed: It's cozy, romantic, light, and casual, evoking the feeling of a quaint Parisian café. Whether your goal is to create an indoor French style bistro, bring the freshness of the countryside indoors, or add a whimsical touch of rustic appeal, French café style furnishings accent your home perfectly. 
While tête-à-tête is often the rule,  a rustic French café setting can incorporate style elements that welcome children and guests. Interesting seating arrangements encourage lively discussion over drinks and sumptuous delicacies.
The use of folding chairs, particularly outdoors, allows you to customize the look and accommodate as many - or as few - companions as you like, while a stylish folding table can be stored between uses. Window boxes, brightly painted stucco, and aged, mossy walls come together to create the look of a romantic Parisian café.
Source: My Desert Cottage Blog
A rustic French café style table serves as the centerpiece for a dining room that looks casual, yet elegant. Let your imagination be your guide when creating centerpieces; flowers fresh from the field, woods, or garden add fragrance, texture, and color that pleases the senses. Chairs fitted with comfortable cushions encourage guests to linger. Charming kitchen nooks are easily made over with French café style furnishings that complement adjacent spaces. Light fixtures, intriguing chairs in colors like black, brown, and white, treasured objects, and shapely tables come together to evoke the welcoming look you seek. Mix and match for a warm, rustic appearance or coordinate tables and chairs for a look that's a bit more elegant. Hutches, credenzas, sideboards, and cabinets can serve as focal points, allowing you to personalize the space and display favorite objects while doubling as spacious storage areas for linens, silver, candles, and other café necessities. Look for classic French profiles in light, pleasing neutrals to make your style complete, remembering to incorporate natural elements such as fruit or foliage.
Source: Live Beautifully Blog 
 Source: French Quarters Blog
Check out Belle Escape's French Cafe style furnishings to find items to get the look of an authentic French bistro. Here are just a few items from our French Cafe section.
More articles on French Decorating: French Sofa & Settees French Country Dining Table Guide Dream in French: Inspired Vintage French Interiors Get the French Shabby Chic Look Rustic French Country Decorating French Chic Style Furniture Old French Provence Style Modern French Furniture French Farmhouse Decorating French Chic Style Furniture Beautiful French Armoires Collection 2019 Sale 70% Off Title for image