Stylish Counter Stools
Stylish counter stools can transform an ordinary kitchen space into something special. As one of the finishes touches to your kitchen, they truly signify your design style. For example,
French country counter stools
give a rustic warm and cozy feeling while rattan counter stools, whether painted or stained, give a lighter, more casual feeling. And upholstered counter stools, which come with tufting, nail head embellishments and unique fabrics, can transform your kitchen into a stylized lounge.
French Country: French country counter stools, which combine stylish features with comfy cushioned seats, are one of the most popular counter stool styles. In finishes to complement the rest of your décor, French country counter stools feature intricate details such as hand-carved wood ladder backs and elegant curved cabriole legs. Some feature bun feet or chic upholstery. Offering comfortable seating for intimate nooks and spacious counter areas alike, they are available in popular finishes that help make your home's overall French Country look complete.
Coastal Rattan:
 Rattan counter stools give any space a feel that's light, airy, and perfectly casual. Available in popular colors ranging from washed, coastal gray to lovely sea green, these stools are also available in natural hues to complement a wide variety of interiors and counter styles. Profiles range from modern, lean rectangles with low backs to larger, more sumptuous looking curved designs. Suitable for the bar, the kitchen, the sunroom, or a poolside cabana, these
coastal counter stools
make for versatile, convenient seating arrangements that also happen to be perfectly stylish.
Bistro:
Parisian Café counter stools
transform an ordinary kitchen nook or counter top into a lovely French bistro. With clean, classy lines for an elegant look that's anything but pretentious, these stools feature slender profiles that allow you to make the most of the space you have available. Classic high backs with graceful lines offer comfort and support giving your interior the look of a French patisserie. In a variety of expertly applied finishes to complement existing décor, these Parisian café counter stools often come in pairs for your convenience.
Cushioned:
Elegant
Cushioned counter stools
offer comfort while providing the beautiful style you crave. Meant for counter spaces where friends and family like to linger, these stools are often fitted with cushy arm rests and high backs. Tufted upholstery, contrasting trim, and elegant brass tacks are just some of the embellishments you'll find when you begin to explore the endless variety of cushioned counter stools available. Choose colors to contrast or blend with existing décor, add pillows for more comfort, or keep your style looking lean and modern. These versatile counter stools serve as a simple, convenient way to add interest to your space.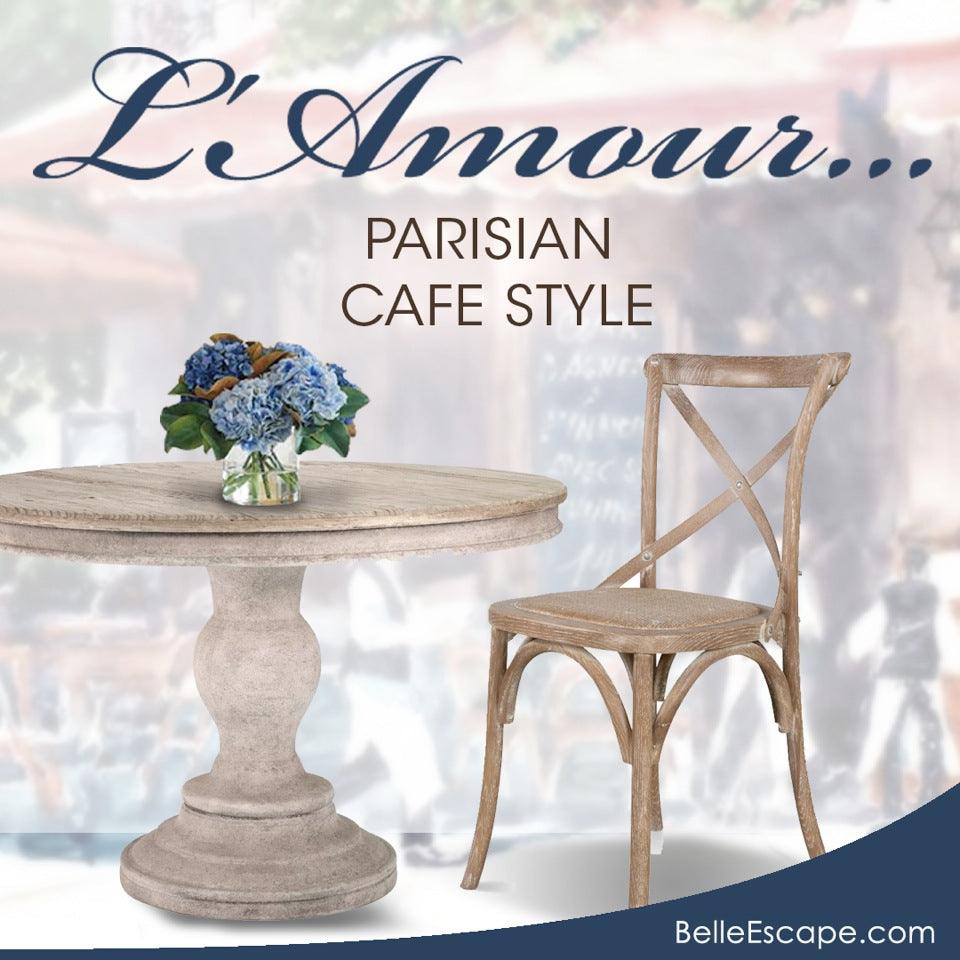 french bistro style
French café style, refreshed: It's cozy, romantic, light, and casual, evoking the feeling of a quaint Parisian café. Whether your goal is to create an indoor French style bistro, bring the freshnes...
Read more
artistic furniture
Furniture, while functional in nature, can truly be a work of art on its own. The shape, finishes and hardware can be masterfully combined to create artistic furniture pieces. Today's furniture des...
Read more