Family Dining Table Ideas
Whether for an everyday meal or a festive gathering, the dining room makes the perfect setting for memorable occasions. Use our collection of
family dining table
ideas to transform your space as the seasons pass, one by one.
Here, a simple white trestle table serves as the ideal canvas for a welcoming medley of greenery, candles, and floral accents that are easy to change with the seasons. Neutral furnishings in different patterns and textures heighten interest, while a pillow-padded bench and
café chairs
offer ample seating for the ones you love most. It's very easy to try different dining table ideas in a setting like this one: Just swap accessories to transform the look and feel of the space.
Showcase nature's abundance with a melee of pumpkins in interesting textures. Surrounded by pears, smaller gourds, or a touch of greenery, they add a soft wash of color while celebrating Thanksgiving with a beautiful harvest theme. Here, a
traditional farmhouse table
imparts a rustic air. The addition of an old wooden ladder and other aged pieces keeps the feel warm and welcoming, and the chandeliers offer a sparkling touch of sophistication. A simple textured rug softens the space while offering easy care, and contrasting chairs in different materials provide the perfect finishing touch. Dining table ideas like this display offer a pleasing visual impact while taking a minimal amount of time to complete.
Choose a long table and simple seating, and you'll be ready to entertain a crowd. Minimalist décor takes mere moments to assemble, and allows a carefully prepared meal to take center stage. Add more chairs at each end of the table, and consider a kids' table if you're hosting a large gathering.
What could be simpler? Some of the best
family dining table
ideas are also among the easiest: A blackboard lets you display a customized message while showing off your artistic nature, and a simple
cottage table
takes on a festive feel with the addition of just a few natural accessories. Subtle colors and textures, plus contrasting chairs in different materials impart a comforting, homey feel without seeming too busy. A sideboard or buffet lets guests serve themselves and allows your centerpiece to stay in place.
Love color? Choose just one (red, in this case!) and let it shine. Texture, texture, and more texture adds ample interest here, even though the accessories and centerpiece are ultra-simple to assemble. Like other festive holiday dining table ideas showcased here, this one looks completely pulled-together yet it offers time-saving appeal. A very simple table works best for this idea; chairs in different finishes add a touch of whimsy.
Is it possible to get any simpler than this? When it comes to family dining table ideas, consider choosing a look that's comfortable and cozy yet crisp and well-defined. A beautiful plank table serves as the perfect setting for a sprinkling of greens and unique birch-inspired candlesticks, plus pinecones and a few well-placed ornaments. A wreath of greenery adds a festive touch to the sculpted chandelier, and white place settings serve as the perfect canvas for holiday delights.
A thoughtfully decorated yet unfussy setting feels so very welcoming - and it lets your family and friends take starring roles, brightening your space even further with smiles, songs, stories, and plenty of laughter. This year, consider one of our ultra-simple dining table ideas. You'll have more time to spend enjoying the company - and the refreshments!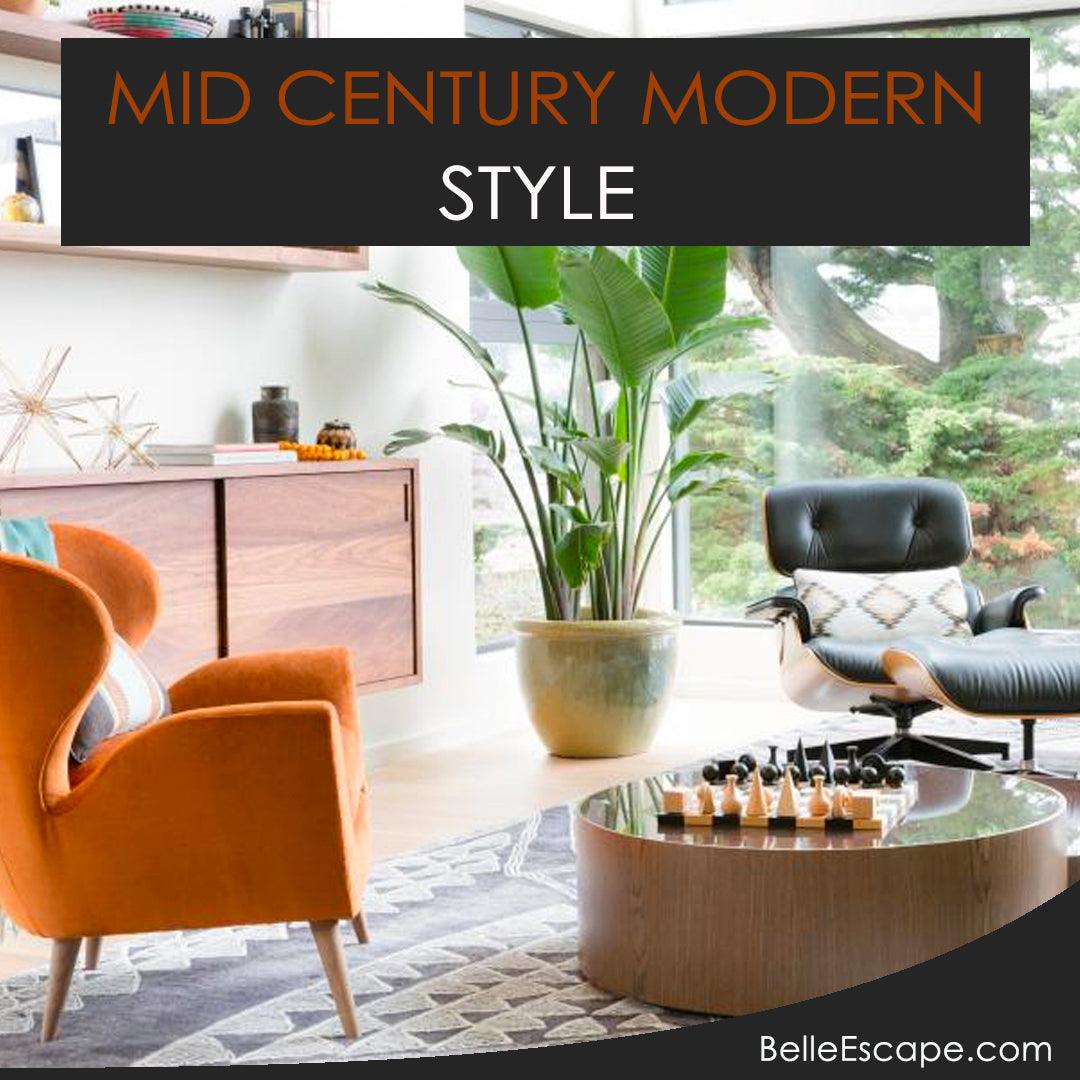 Interior Decorating
In recent years, Mid Century Modern style has become an increasingly popular style that appeals to a wide audience. Evoking traditional pieces from the 1950's and 60's, this trend gives them a more...
Read more