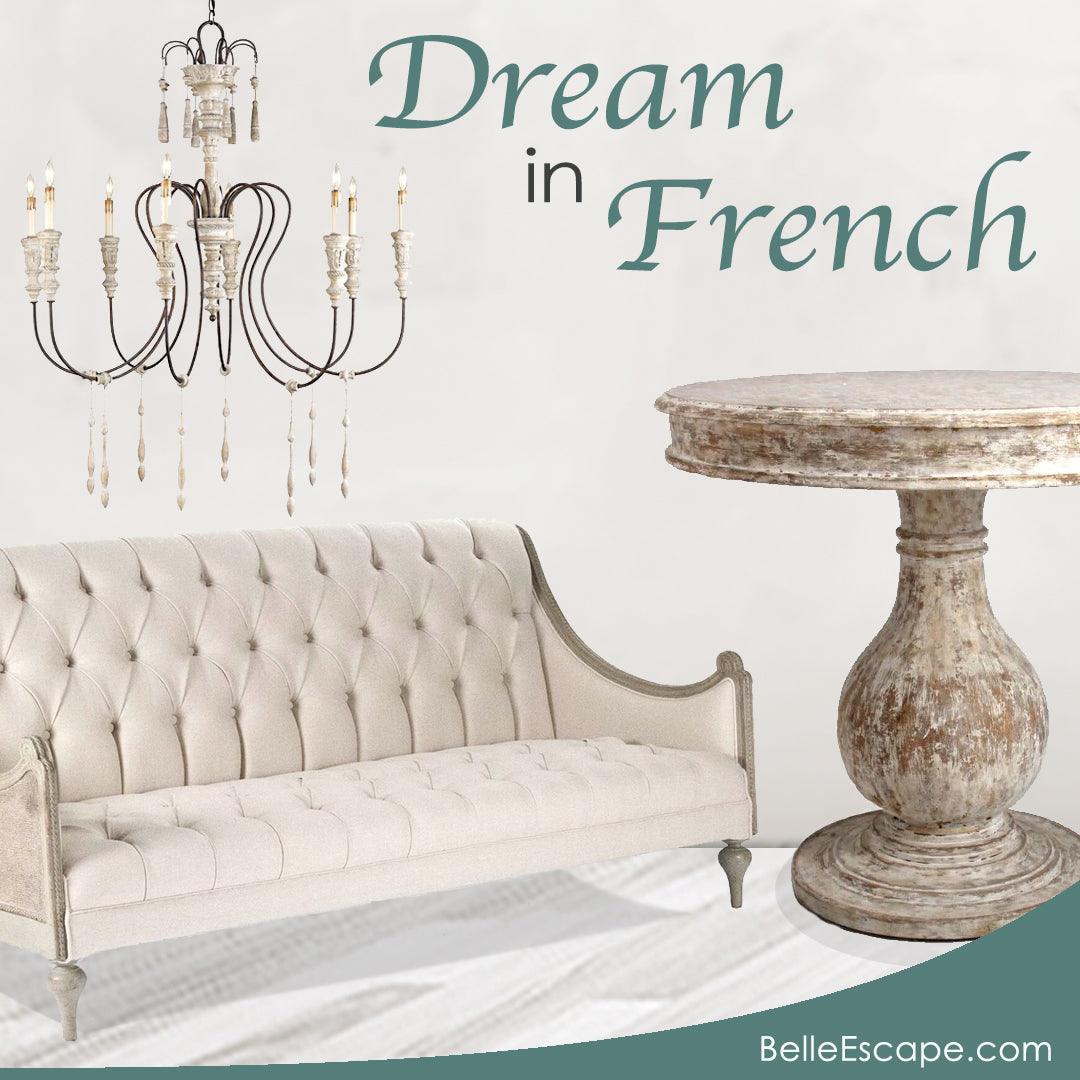 Dream in French - Vintage Interiors
Transform your home with dreamy, Vintage French furnishings. Luxurious fabrics, silky finishes, and elegant gilded accents combine to create a stunning hideaway you'll enjoy as the seasons pass.
Curvy wood framed
French settees
with cabriole legs area must in your vintage French-inspired living room. Creamy whites and subtle silvers always look impeccable – and they're versatile enough to pair with contrasting furnishings and finishes in the event that the classic, all-white look isn't quite your style. Vintage French sconces and candle holders add dramatic flair.
Carved accents - sometimes dramatic, sometimes simpler, adorn many French furnishings. From highly ornate mirror frames that might remind you of antique treasures rescued from old crumbling chateaus, to the beautiful ornaments that often adorn table aprons. Gracious
French sofas
with carved accents are made cozy with the addition of plump pillows, and marvelous
chests
brim with beautiful details while housing your simplest accoutrements.
If your style leans toward the casual but you'd love to add dreamy, Vintage French inspired pieces, don't worry! Though all those intricate details can appear quite formal when an entire room or home contains lots of white and gold, the same
French chests
, dining tables, and settees look amazing when mixed and matched with contrasting pieces in easygoing styles.   Even the fanciest of Vintage French crystal chandeliers can blend into a casual setting; try hanging one over a long farmhouse table, perhaps with a hodgepodge of comfy chairs, and your guests will marvel at your ability to create such a beautiful – yet welcoming – display. The effect might remind you of the classic look of diamond studs paired with your favorite jeans! And speaking of
French chandeliers
, they really can go anywhere, especially when you're transforming your home into a Vintage French inspired getaway. Entryways, powder rooms, family rooms, and master suites are a few places to let them shine.
As you create your unique space with
vintage French furniture
, remember to add a few carefully curated touches. Décor can be a mix of the mundane and the splendid; simple floral fabrics, old-fashioned lamps, and elegant mirrors pair perfectly with an ornately carved bed, for example. Keep the color palette simple; layer pale grays and whites with subtle splashes of color to recreate the classic look you've fallen in love with. Stay away from fussiness and you'll be on the right track! Vintage French inspired interiors are easy to create with a few key pieces, and there's no need to rush as you find the ones that stir your imagination. You'll find so much inspiration here! We welcome you to relax, enjoy, and spend some time dreaming in French.
dining room tables
Whether for an everyday meal or a festive gathering, the dining room makes the perfect setting for memorable occasions. Use our collection of family dining table ideas to transform your space as th...
Read more