Top Grain Tufted Leather Sofa
Top Grain Tufted Leather Sofa
 The Top Grain Tufted Leather Sofa features a metal base and leg support. This sofa is made from the highest-quality brown leather that is treated for comfort. This leather sofa has a rustic feel with a modern form.
Top-grain brown leather
Tufted leather
Metal platform base
160 lbs.
More
Related Products

AVAILABILITY: In stock (0 items)
The Golden Brown Tufted Leather Sofa offers unmatched style for your living room. Tan vintage pigskin leather is tufted all around for a fashionable look. This rustic manor sofa is as comfortable as it is beautiful, making this reliable piece the...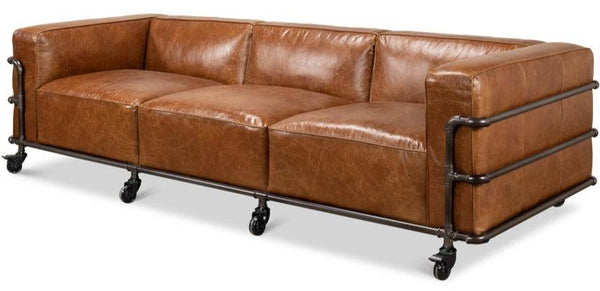 AVAILABILITY: In stock (1 item)
The Brown Leather Industrial Iron Pipe Sofa stands out with its unique blend of styles and materials. The industrial leather couch is comfortable and classic and features an aged iron pipe base that adds an industrial vibe. This vintage-inspired couch...
Products you Might Also Like