Shabby Chic Dining Ideas
Shabby Chic is the interior style that brings together a cottage feel with a vintage touch. Distressed whites, floral prints and a feminine flair make it both romantic and comfortable. Looking to incorporate this style into your dining room? Here are a few ideas you'll love!
Distressed French Shabby Chic
Distressed or antiqued white furnishings and decor is really the backbone of any shabby chic design. Having the appearance of a time-worn heirloom is critical for that nostalgic appeal. A double pedestal table, cane back chairs along with a chippy  Louis style buffet and crystal chandelier make great choices for this type of distressed look.
Versailles Shabby Chic
Versailles Shabby Chic style is all about the old world charm. Elegant and regal, this look is befitting any king or queen. Modeled after the opulent residence built by King Louis XIV, Versailles chic offers gilded accents, luxe materials and intricate carvings all while keeping within the shabby chic color scheme. An extra long dining table paired with a majestic carved side chair in your choice of fabric would be stunning along with a distressed two door buffet and wood-beaded chandelier. 
Rustic Shabby Chic
You hear the term Rustic Shabby Chic frequently especially in wedding design, but what does it really mean? Well, it really is a marriage of sorts - the union of masculine rustic and shabby chic feminine styles. Taking more savaged and wooden pieces and giving them a light whitewash works well. Vintage finds mixed with natural elements bring a comfortable and relaxed feel to your decor. A chunky reclaimed dining table paired with vintage French cane back chairs would be well suited with a large, rustic buffet table and gilded chandelier.
Country French Shabby Chic 
The French Country side of Shabby Chic design brings a more classic and traditional flair to your decor. Although this style also brings in a rustic wood and natural elements to reflect the French countryside, it does so in a more refined way. A fluted leg dining table with a natural wood top is a great example. Pair the table with traditional square-back dining chairs, a distressed white buffet also with a wood top, and a rustic bronze chandelier and voila! A perfect blend of French country and shabby chic styles.
Overall, the appeal of shabby chic is that it has something for everyone.. 
Whatever Shabby Chic design style best suits you, you are sure to find something to love in our Shabby Chic design category at
BelleEscape.com.
See similar articles to Shabby Chic Dining Ideas: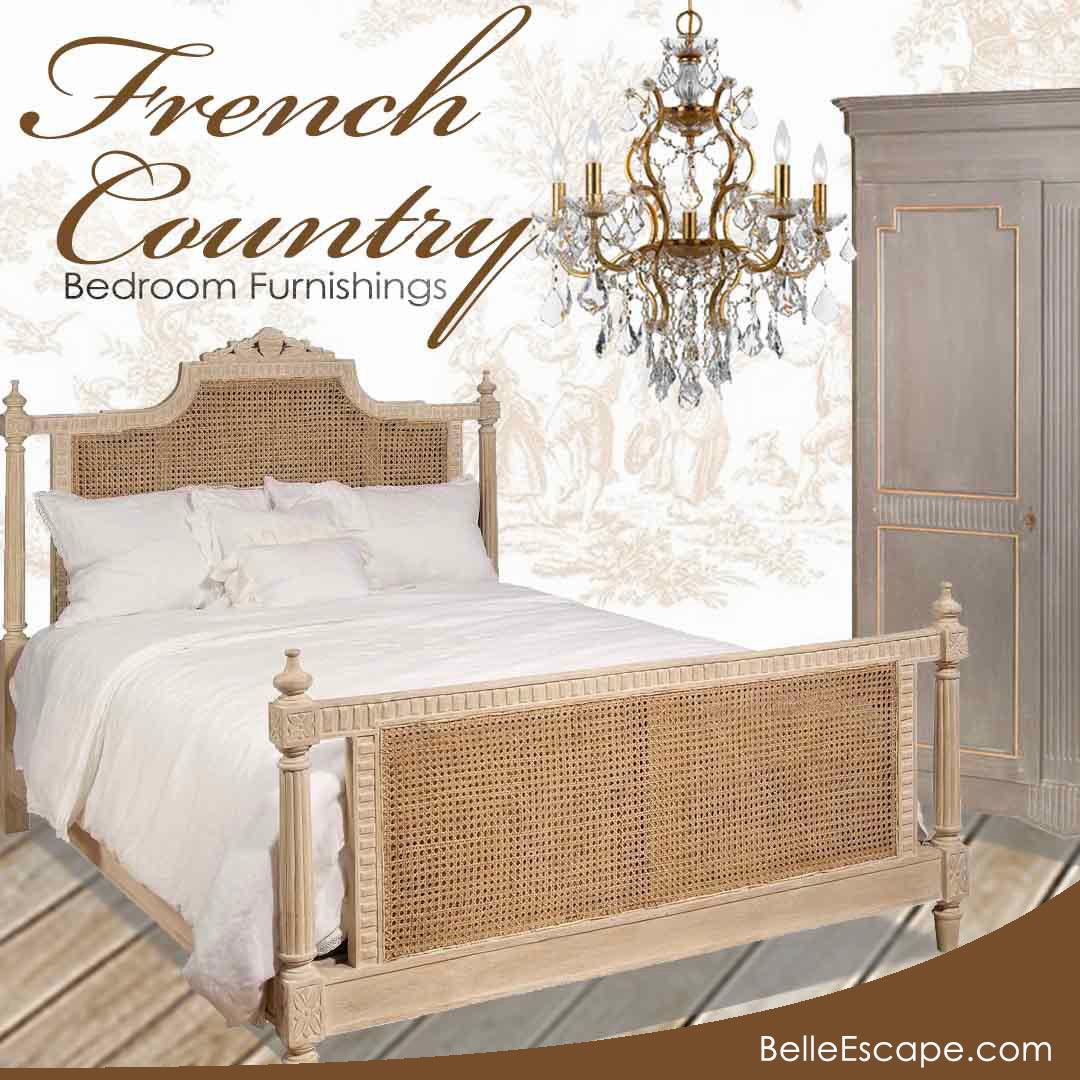 distressed French chests
A French Country bedroom should be a luxurious retreat with items that will stand the test of time. A perfect blend of elegance and comfortable practicality is one of the reasons why the design sty...
Read more