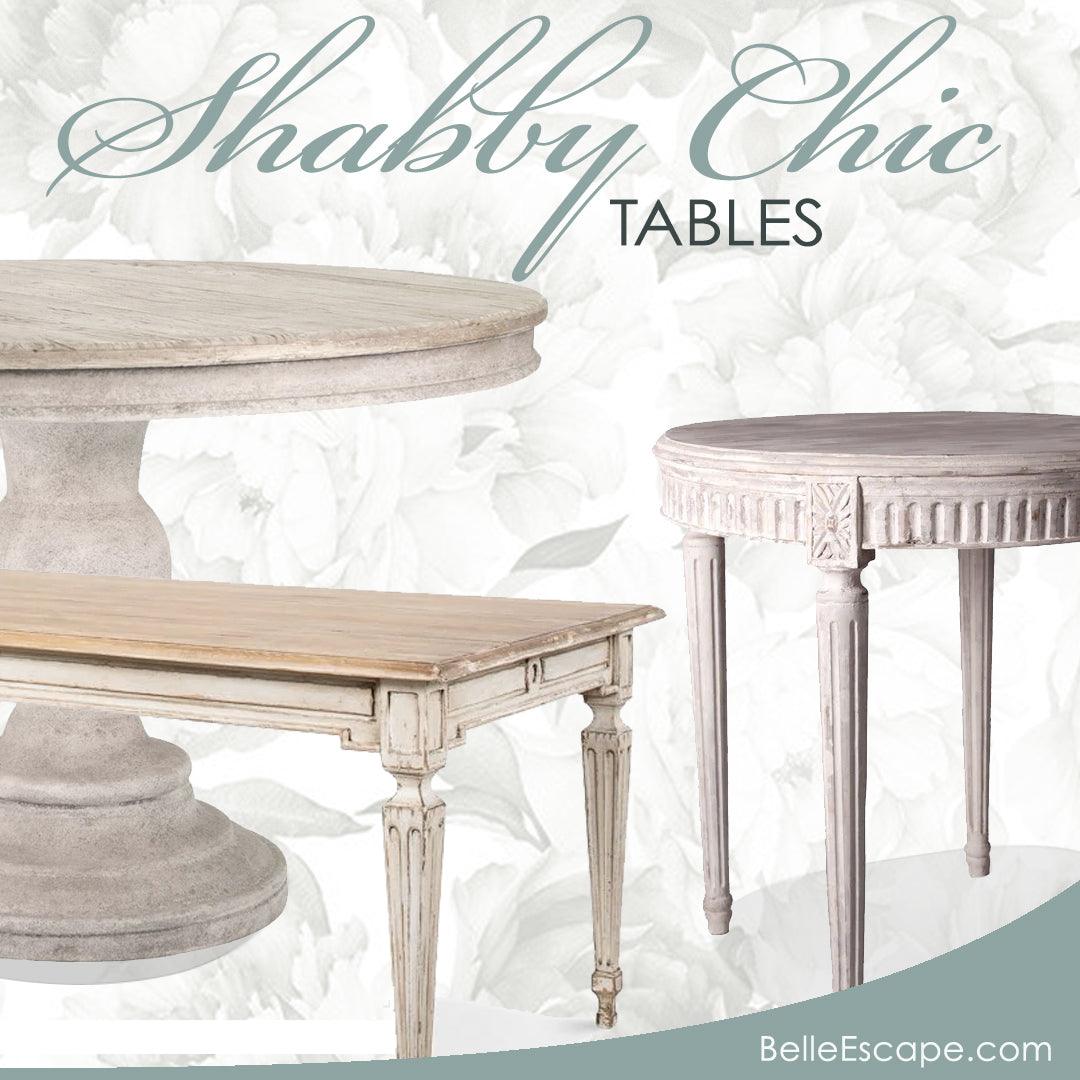 Shabby Chic Tables: Style Tips and DIY
Shabby chic tables are perfect for creating a warm, friendly atmosphere in your home while keeping your look stylish. The dining room is a great place to start, but it's just the beginning! Shabby Chic dining tables, coffee tables and accent tables can bring a touch of shabby chic style to any space, large or small. Here, we'll take a closer look at some favorite pieces, talk about thrifting, and go over a few helpful tips for creating DIY shabby chic tables.
"Perfect" shabby chic tables have lots of imperfections, so your space looks lovely but doesn't feel too formal. This is one of our favorite styles. Thanks to a dark
farmhouse
-inspired top, there's plenty of contrast with the distressed white base. The varying tones create an interesting focal point while encouraging your inner interior designer to play with a variety of finishes and textures. A sleek mirrored cabinet, a white wood chandelier, linen chairs, and a few decorative accents pull this dining room together and provide plenty of personality. You can use shabby chic tables this way in any room! Part of the appeal is that they look amazing in farmhouse-inspired spaces, alongside
French country furnishings
, and more.
How to Find Shabby Chic Table Locally
When the trend first gained popularity, the best source was flea markets and antique shops. Many boutiques offer one-of-a-kind pieces, too. If you're lucky enough to live in a community where shops like these are available, you may be able to find exactly what you're looking for locally. When you find a shabby chic table that tugs at your heartstrings, check to be sure that it is structurally sound. Be sure that the finish is in good shape, unless you plan to repaint. While the chippy, distressed look is desirable, the piece needs to be in usable condition.
How to Make a Shabby Chic Table
There's also the option of DIY. While some shabby chic tables come with elaborate finishes that might be tough to replicate on your own, the basic look is easy to create. We recommend starting out with a sturdy, small-scale piece in sound physical condition. To replicate the classic white shabby chic finish seen on the console table above, take the following steps:
Purchase milk paint in a shade of white that appeals to you. Get a paintbrush or two while you're at it. Buy finishing wax or carnuba wax as well; you'll use that to seal the milk paint when you're finished.
Carefully remove handles, pulls, and other visible hardware.
Sand the piece so that your finish sticks to the wood instead of peeling off. There's usually no need to remove old finish completely; just scratch it up with 80-100 grit sandpaper. If a piece has an oily finish, you'll want to completely sand since milk paint and oily finishes don't normally agree with one another.
Clean the piece with a damp cloth to ensure that none of the sanded particles end up in your finish.
Apply at least two coats of milk paint and allow your piece to dry for 24 hours.
With a soft sanding block, sand the edges of the table and any other areas you'd like to highlight. If you prefer the softer look of a rubbed finish, you can blur the edges with a damp rag (yes, this works on dry milk paint!) It's a good idea to start in a concealed area so you can practice a bit before moving on to visible parts.
After distressing, apply wax to the entire surface and then use a clean rag to buff it.
Reattach the hardware, put your table in place, and decorate!
How to Buy a Shabby Chic Table Online
It's rewarding to create DIY
shabby chic furniture
, but the process is a bit messy and time-consuming. If sanding, painting, and waxing aren't your cup of tea and you can't find what you want locally, there's a great alternative. You can find beautiful new shabby chic tables online in just about every shape and size imaginable. We invite you to shop
Belle Escape
,
or simply visit to find inspiration for creations of your own!
fine outdoor furniture
Summer is the perfect time to update your ourdoor living space with elegant outdoor furniture, beautiful weather-proof accessories, and other enviable delights. We invite you to relegate those fold...
Read more