Finding the Right Entry Table for your Home
Posted by BELLE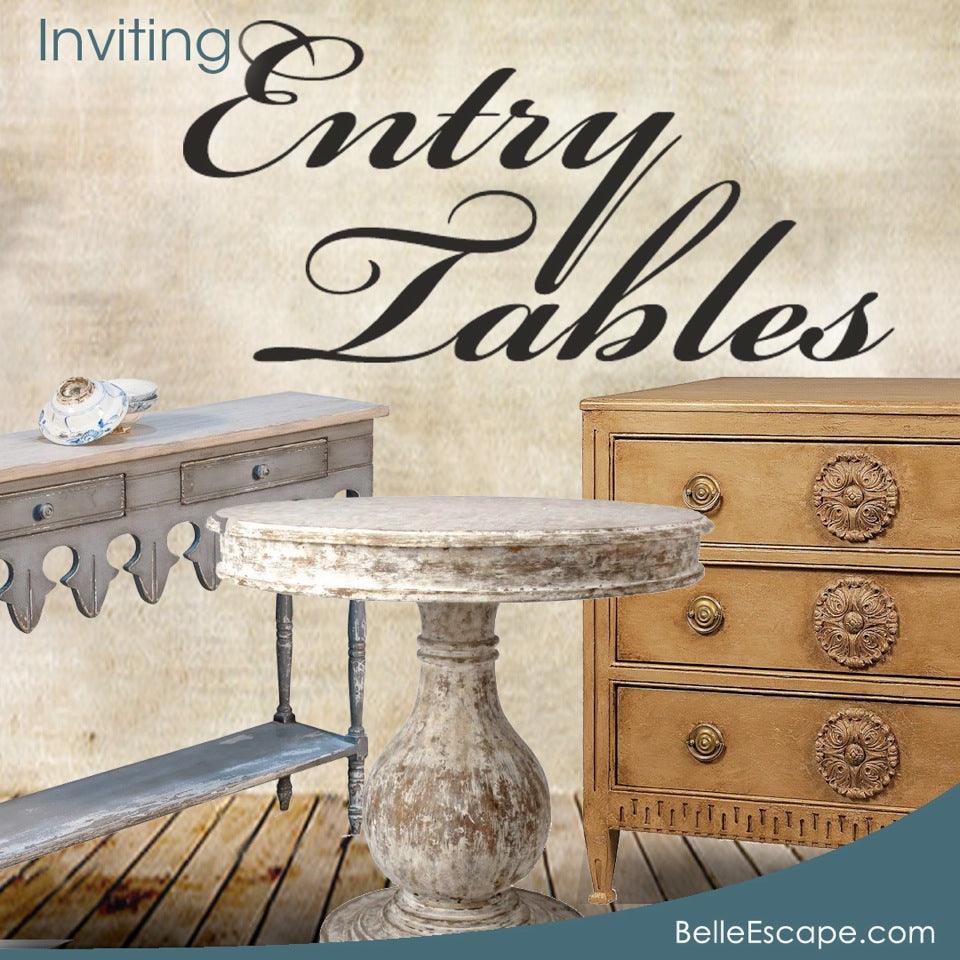 What feeling do you want to create when people enter your home? One of the first things people see is the entryway décor, often dominated by an entry table, those "ambassador" pieces that represent your home, make a statement to all who enter and often serve a functional purpose as well.
Console tables and small chests tend to be the most popular choices for an entry table. Round entry tables are also a good choice for open foyers. Generally speaking, console tables are seen as open and lighthearted, chests as warm and cozy and round tables as more formal, but there certainly is a lot of crossover. For example, a colorful or eclectic chest in the entry way can certainly create a fun loving vibe.
Console tables are by far the most popular type of entry table. These pieces are generally decorative and include at least one drawer to toss the keys, phones and sun glasses into upon arriving in the home. These cottage style console tables create a light and cheerful feeling and seem to say "come on in for a cup of tea and good cheer."
Found on Flickr.com
Earthy console tables are in high demand these days as people have become more environmentally conscious. The rustic console tables below create a sense of warmth and strength while also conveying a love for nature. Console tables hand crafted from reclaimed solid woods with weathered effects are particularly popular. These rustic tables looks great when adorned with plants and pottery, and placing a basket beneath provides extra storage space for shoes, blankets, pillows and more.
 Ornate French entry tables
are the perfect choice for well appointed homes. These curvy aged pieces convey warmth and elegance. These console tables create a dreamy feel that lets guests know that your home is not only your castle, but also your oasis. 
Chic Posh Blog
For the more traditional home, a painted chest is a great entry way choice. A painted chest gives a feeling of warmth and whimsy, as if to say "we love family and traditions, but we know how to have fun!" And with so many
painted chests
to choose from, it's fun and easy to choose one that reflects your family's personality. One of the things I love about using a chest in the entry way is that you get a lot of storage space. You can store keys and odds and ends in the top drawer and fill the other drawers with items often needed when you leave the home, like sweaters, caps, gloves, storage bags and more.
Found on The Enchanted Home
Round entry tables are the perfect choice for homes with large, open foyers. Placing a round pedestal table just under a pendant light creates a sophisticated look, especially with a bouquet of flowers on the table along with books and family photos. Collection 2019 Sale 70% Off Title for image