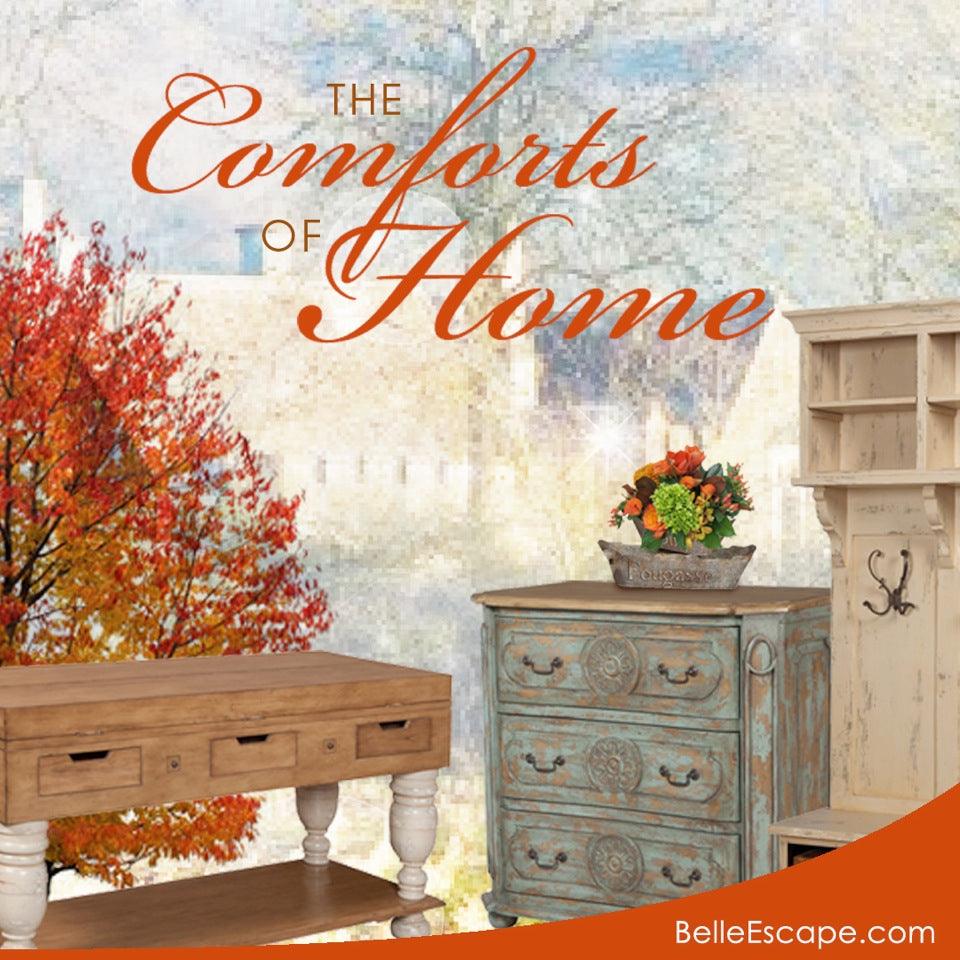 Cozy Farmhouse Chic Decorating
A warm, inviting place to gather with friends and family. Isn't this what we all strive to have in our homes? It is not only the architectural style of the farmhouse that appeals to many, but also the simplicity. The proportions are generous and the rooms are connected by open corridors. The distressed painted furnishings have a time-worn appeal that is built to last and be enjoyed by generations.
This country chic dining room beckons family and friends to sit down and enjoy a hearty meal together. The rustic wood table, distressed chairs and aged decor next to the bright light windows give this an otherworldly feel.
What an ideal French Farmhouse kitchen design with its exposed beams and wood plank flooring! The French blue cabinetry is perfectly distressed. The stone columns and archway above the range are inspired by the look of old Provence. With a kitchen this large, you could have everyone in the family help with the holiday dinner.
Of course, after staying up until the wee hours talking, laughing and reminiscing about old times, it is time to wander off to bed. Again with a muted color scheme, natural woods and crisp white linens, this bedroom is the ideal place to drift off to dreamland.
Farmhouse chic furnishings
 are relaxed, yet exhibit grace and beauty.  Homes decorated in this style seem to embrace family and friends the moment they walk through the door.  It is a comfortable, loving, gorgeous space that you are never going to want to leave.
cottage chic furniture
Home furnishing trends in 2014 are expected to be bold, colorful and eclectic. Expect to see retro lighting, furniture in hues of blue, purple and gray, Greek symbol embellishments, skull motifs, g...
Read more