Fabulous French Buffets
Formal, casual, contemporary, or classic: All kinds of interiors are suitable for
French buffets
. These pieces, which evolved in different regions, come in an amazing array of sizes, shapes, styles, and finishes, and they're no longer consigned to dining rooms alone. Whether you call them credenzas, consoles, sideboards, or simple cabinets, French buffets help you give your space a look that's completely pulled together.
In soft, serene powder blue, this piece offers ample storage beneath, plus a long, elegant upper surface on which to display a selection of objects. Its distressed finish, carved details, and simple keyed hardware come together to create a timeworn look. With a seemingly endless number of cabinets, it offers a peek into the history of French buffets: these essential pieces were used for storage before the days of built-in cupboards like the ones we enjoy in our kitchens today.
Gilded accents and carved ornaments lend an air of sophistication to
French buffets
like this one. Its appearance is elegant without overbearing, making it the perfect complement to other furnishings and fixtures. Gilded sconces or candlesticks, seasonal décor, and sparkling chandeliers are beautiful choices for accentuating pieces like this.
For casual spaces, nothing works better than rustic French buffets! Keep decorating themes simple to amplify the easygoing sense of ambience that sideboards like these convey.
Love to mix and mingle eclectic, bohemian, or shabby items? Go for sideboards in simple shapes, with equally uncomplicated finishes. Easy to dress up or down, French buffets like this one lend themselves to settings of all kinds.
Somewhat formal, but in a comfortable, slightly dressed-down way, this dining room makes use of curvaceous shapes, subtle textures, and soft neutrals. The buffet pictured complements other pieces; its cabriole legs, for example, are smaller versions of the ones supporting the chairs.
French buffets like this one are perfect when used as the basis for a built-in bar. Space on top allows for serving, while the dark finish complements and contrasts with bright colors and neutrals alike. While this example is wine-themed, it would be simple to swap the accompanying décor with objects celebrating beer or spirits!
hacienda furniture
If you like the look of old-world architecture, then you'll love the way Spanish villa furnishings can transform your home. Taking inspiration from the natural materials and graceful shapes found i...
Read more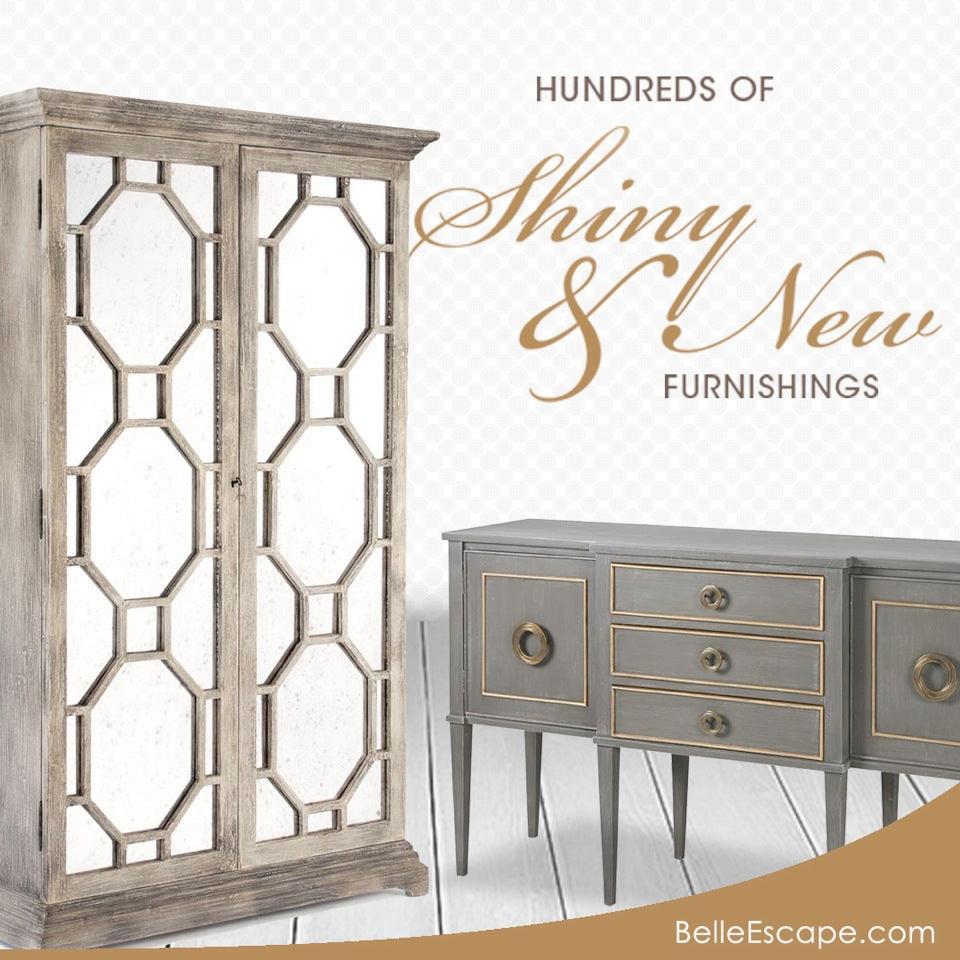 elegant modern furniture
Discover our trendy new furnishings, featuring the latest styles from designer showrooms. The newest furniture designs include an eclectic mix of modern Greek chic and traditional French frames wit...
Read more